311 Result
Between the dates of March 1 and June 30, comparing 2019 to 2020, there was an approximately 7% percent decrease in the number of 311 calls made in the neighborhood of Brownsville, Brooklyn. This is consistent (although to a smaller degree) with the wider trend of a call decrease in the entire borough of Brooklyn (~10%), as well as New York City (~18%). Choropleth maps indicate that Brownsville does not stand out in terms of percent decrease, as there is an overall decrease in 311 calls across Brooklyn.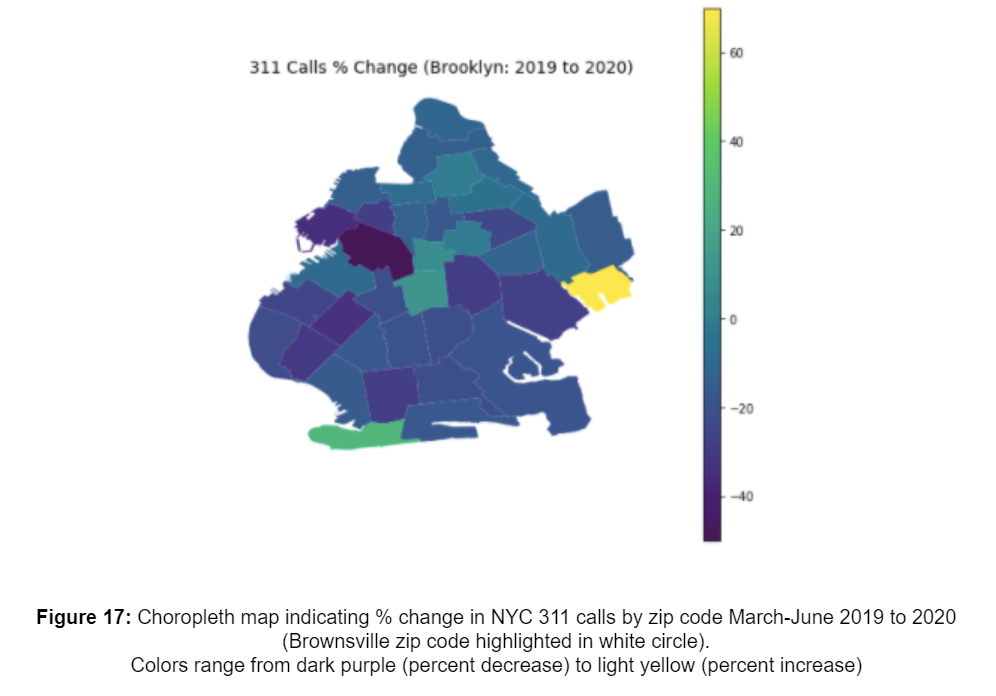 Time series analysis indicated that the trend of percent decrease in phone calls. Starting in June, however, the number of calls in 2020 increased quite drastically, correlated with the preponderance of fireworks throughout the city.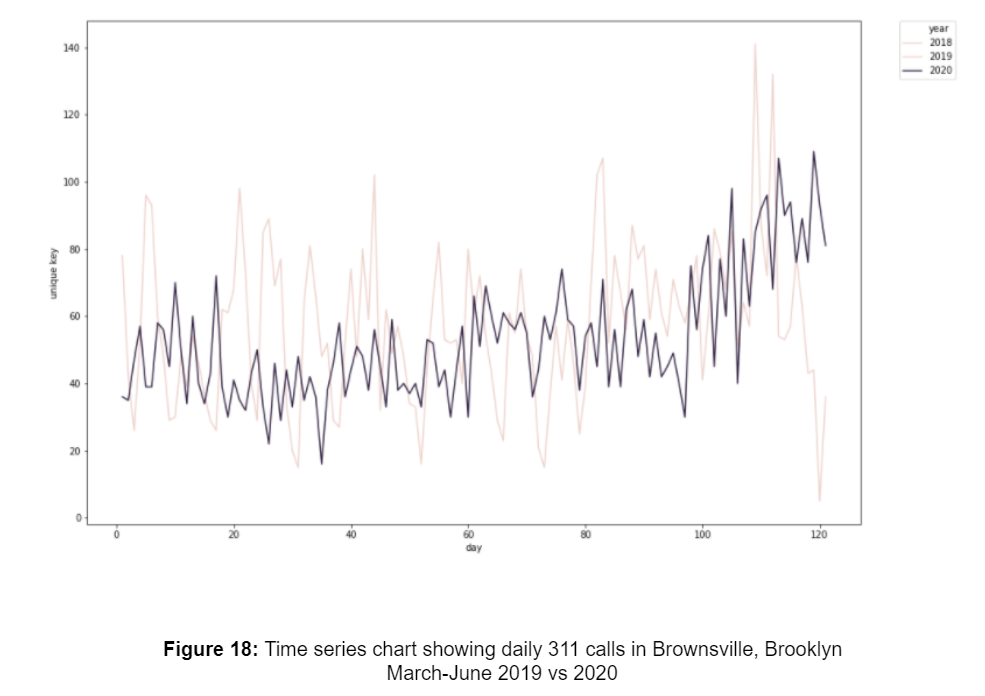 For Brownsville, distinct changes were observed in the complaint types, as well as the department meant to handle said calls. For 2019, the top call types included "Heat-Hot Water", "Noise-Residential", "Unsanitary Condition", and "Plumbing". For 2020, the number one call type was "Noise - Residential", accounting for over 25% of calls. Additionally, there was the emergence of two new categories: "Non-Emergency Police Matter" (~15%), and "Illegal Fireworks"(~8%).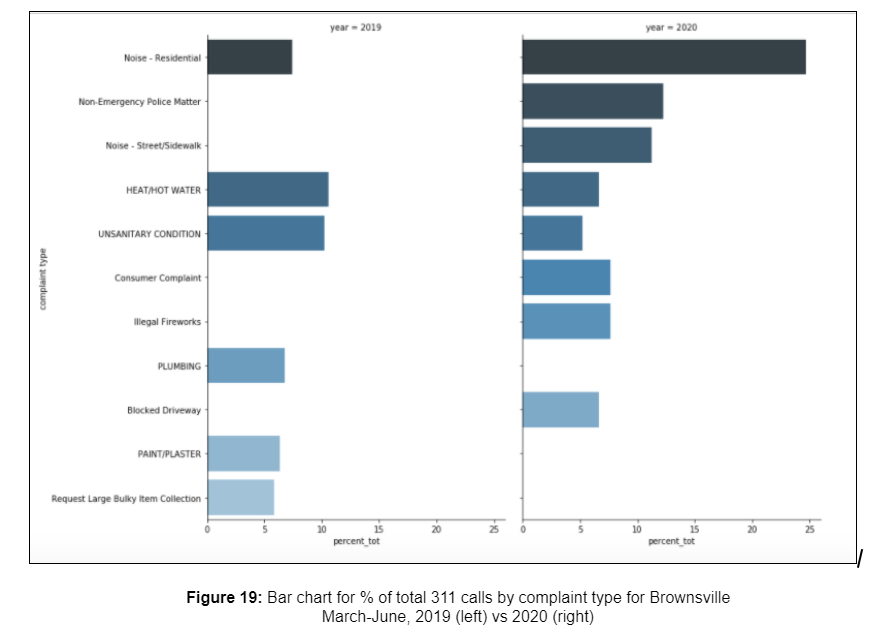 Noise complaints seem fairly self explanatory. The calling of police for non-emergency matters may be correlated with the rise in cases of Covid-19, as residents look to police departments for assistance with sick family members. Additionally, the spike in consumer complaints could potentially be correlated with the rise in "price gouging" among businesses for essential supplies.
These results also match the findings that the New York City Police Department (NYPD) responded to over 50% of all 311 calls in 2020 for the time period mentioned above. They were followed by the Department of Housing Preservation and Development (25%), and Consumer Affairs (7%).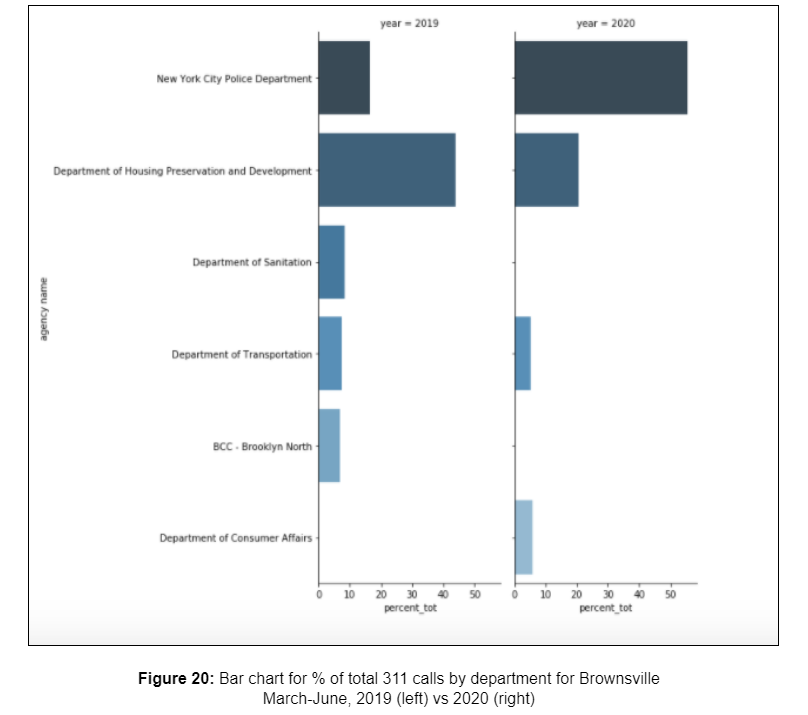 Health and Environment Result
The geospatial visualizations reveal the disparities between Brooklyn neighborhoods and OLS regressions reveal the impact of different features on Covid19 cases. CD 16, which contains Brownsville, and CD 17, the community district most similar to CD16, have more cases, deaths, and greater percentage of positive tests than CD 6, the community district least similar to CD 16. The factors that are important to understanding these disparities are illustrated in the OLS regression results.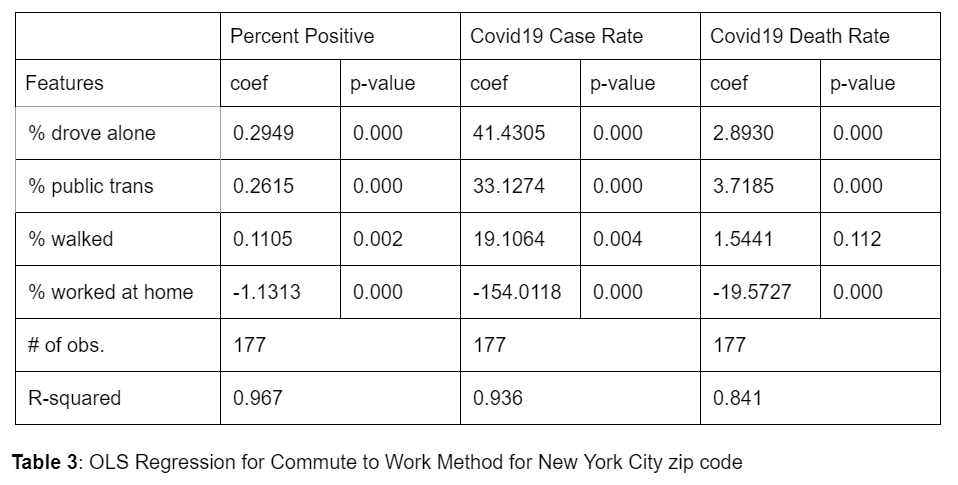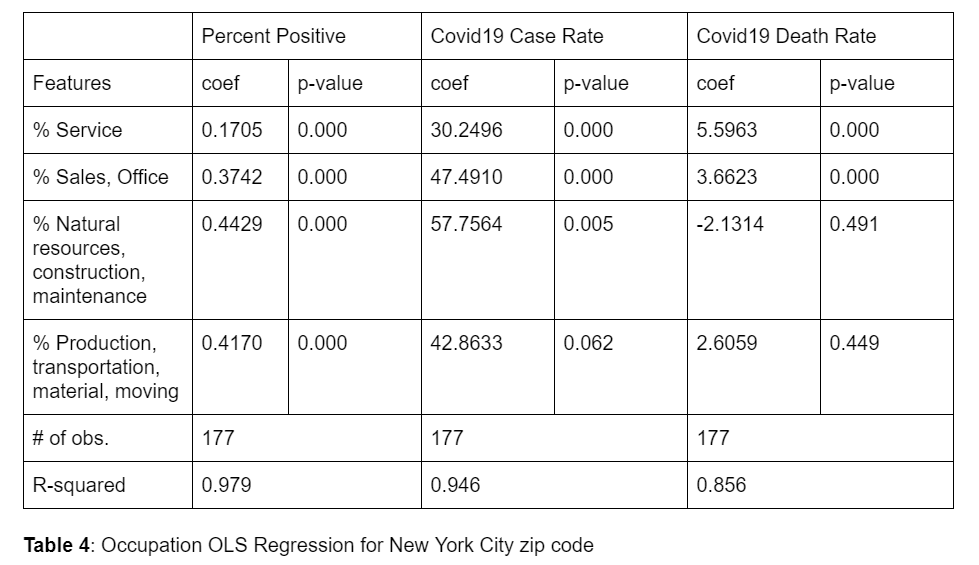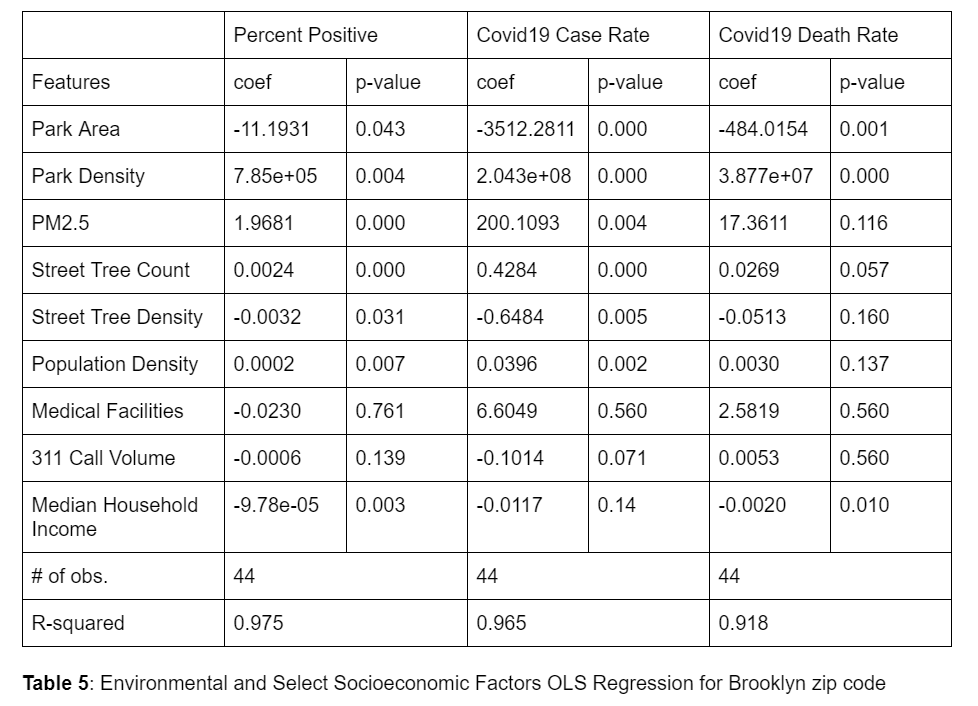 The transportation regression shows that working at home has a negative impact on all the analyzed features of Covid19 (percent positive, cases, and death rates), making it the most effective commute method to avoid Covid19. The occupation regression shows that service workers are least affected by Covid19, likely due to their status as non-essential workers. Essential workers like maintenance and transportation personnel show a higher chance of testing positive for Covid19. The environmental regression shows that median income of a neighborhood has an inverse relationship to the three features of Covid19 that were analyzed. Park space and density of trees also have inverse relationships to Covid19. Many of the environmental factors can be related to the wealth of the neighborhood, for example, wealthier neighborhoods have more access to parks, green space and medical facilities.
Transportation Result
The transportation analysis for Brownsville shows two drastic decreases in ridership; one on the week of March 16, corresponding to public school closures, and the second one the following week, on the week of March 23, corresponding to stay-at-home orders.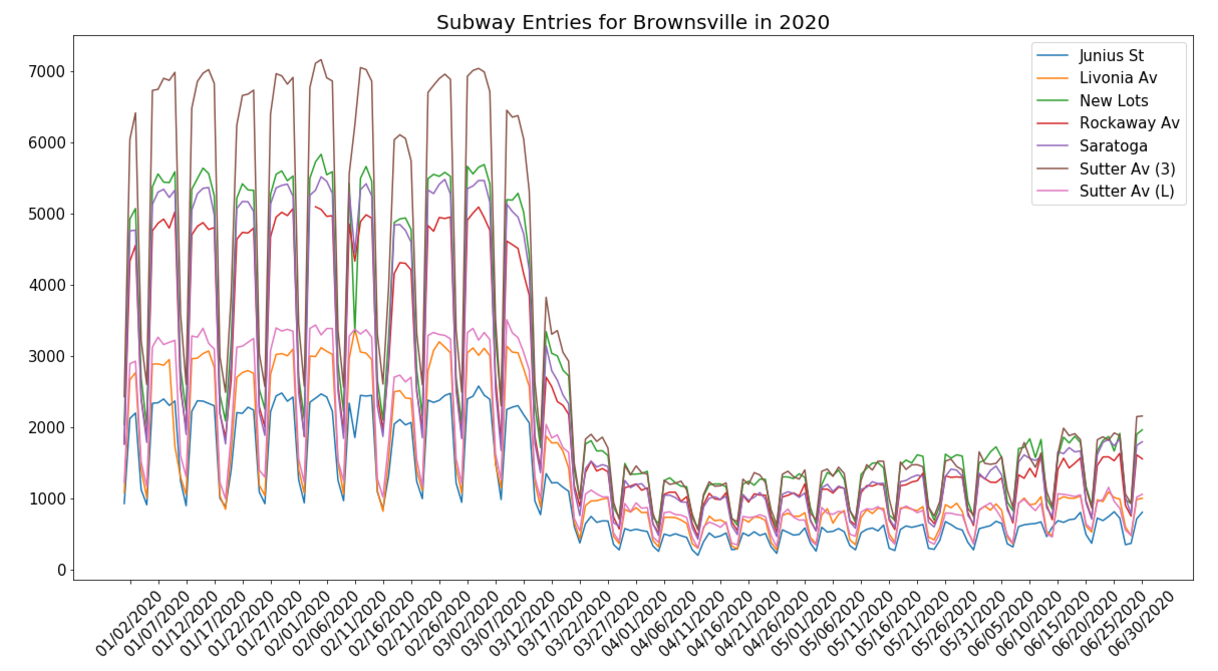 While the same decreasing trend can be observed in CD17 and CD6, the extent of decrease is different. The percent difference in ridership is quantified by comparing ridership of March to June 2020 against March to June 2019 for the three community boards shown in Table 7. CD16 and CD17, which are majority low-income, people of color communities, have similar COVID-19 cases and decreases in ridership, -51% and -55% respectively. This is in contrast to CD6 which has more affluent, white residents, significantly less COVID-19 cases, and a larger decrease in ridership of -70.5%.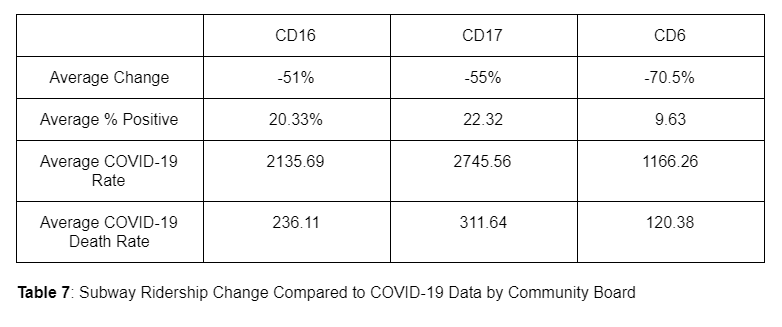 The results indicate that residents of low-income neighborhoods, who make up a large majority of essential workers, lack the ability to work at home and must rely on public transportation to get to work. The OLS results show that these occupations and reliance on public transportation put these residents at increased risk to COVID-19.